Miss Rodeo Idaho Royalty Club Members


Miss Rodeo Idaho Inc. is excited to provide Royalty Club membership level. Our Royalty Club memberships are geared specifically toward young ladies who have earned a title and crown for any equine related organization in the state of Idaho. Whether it is a rodeo, saddle club or county fair, all title holders are welcome to join!

Download the Royalty Club Membership application or join online! Do you have a question regarding rodeo/equine royalty?

For questions: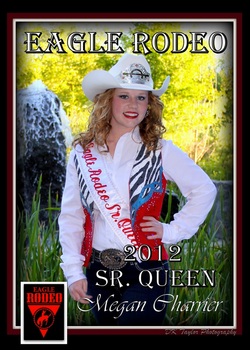 Miss Eagle Rodeo - Queen 2012
Megan Charrier

My name is Megan Charrier, I am the 17 year old daughter of Rich & Jodi Charrier. I live in Meridian, Idaho where I attend Mountain View High School.

My family is very important to me and I love sharing my passion for horses with them. When I am not taking care of my three horses, I love to find time to read, travel with my family, and spend quality time with my friends.

I am actively involved with my 4-H club, where I am the president elect of the JC Riders, and compete through Ada County Horse 4-H in both horse and non-horse contests. This last year I competed in Senior Team Demonstration where I placed first at state, and qualified for the Eastern National 4-H Horse Round Up in Kentucky, the largest youth contest in our nation. Where I represented the state of Idaho placing first.

Being Rodeo Royalty has taught me responsibility, and determination and it is with those learned qualities that I embrace the opportunity to be the first ICA Eagle Rodeo Senior Queen. Giving me the opportunity to serve as an ambassador for the sport of rodeo and the community of Eagle, while representing those who are invested in this rodeo. I believe it is vitally important to reach out to all rodeo fans, young and old, with a positive attitude, as an example of character, responsibility, and the western way of life.

God Bless Cowgirls!!


---
---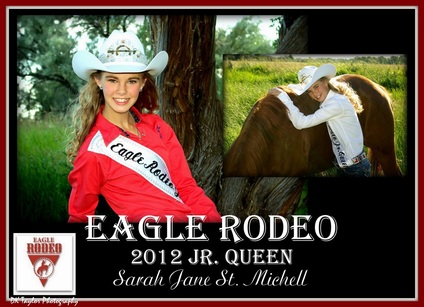 Miss Eagle Rodeo - Jr. Queen 2012
Sarah Jane St. Michell

My name is Sarah Jane St. Michell and I am the 12 year old daughter of Robert and Lora St. Michell. I live with my supporting family in Meridian, Idaho. My life has been wrapped up in the love of horses even before God gave me my first black Shetland pony, Shorty, when I was seven. Public speaking, riding my horse and sharing the joy of life with people have always been some great passions of mine. Representing the sport of rodeo as the 2012 Eagle Rodeo Jr. Queen and making people happy is a great pleasure. I want to thank God and my family for loving me and helping me reach my dreams no matter how high my goals are.


---
---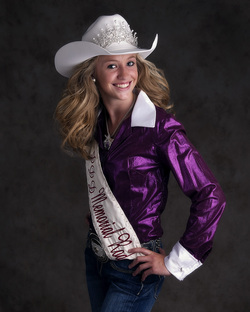 Miss Daniel Dopps Memorial Rodeo - Teen Queen 2012
Randi Smith

My name is Randi Smith. I am the 15 year old daughter of Danny and Lesli Smith, and a sophomore at Fruitland High School where I am an honor roll student.
My family is the most important thing to me, and I love being able to share my love for horses with them. Besides queening and riding my horses for pleasure, I began learning to breakaway rope this year. Outside of horses, I spend my free time as a member of the Fruitland High School Poma Terra Dance team where I am a co-captain. I also am the statician for the Fruitland High School Varsity Baseball team.
I am an active member in the Fruitland FFA Chapter as well as the Silver Spurs 4-H Club, where I am the Vice President. Through 4-H, I have had the opportunity to travel, compete and become a counselor and teen leader, giving me knowledge and experience to grow into the bright young woman I have become and it is giving me the tools to achieve my goals and dreams and soon attend a University to advance my academic career.
When I decided to try out for the Daniel Dopps Memorial Rodeo Teen Queen, I understood that this was a huge responsibility. Achieving this title and being a representative of a PRCA rodeo is giving me opportunities to grow; from public speaking and interacting with people freely, to carrying more responsibilities such as community service and visiting with the elderly. I have gained experience in life that only few have the opportunity to achieve. Even though this is such a large rodeo, I love how it is family oriented, combining the love of families and their love for the rodeo sport. I am honored to not only represent a PRCA rodeo but also represent Daniel's name and what he loved and stood for. I believe it is important to represent this sport not only to rodeo fans, but also to educate those who don't know what rodeo is. It is my belief that rodeo is not just a couple hours of fun on a Friday night; it is a way of life, and something for a family to be a part of. I would like to thank everyone who helped me achieve my goal of being one of the official Spokeswomen of this great Rodeo.

God Bless Rodeo!
Love Randi
---
---
---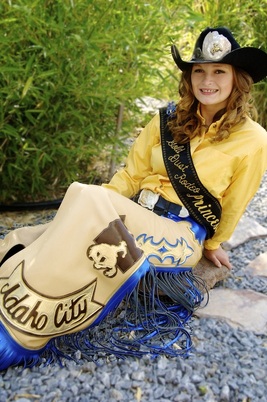 Gold Dust Rodeo Princess 2012 - 2013
Molly Kay Huntsinger

Hello! My name is Molly Kay Huntsinger. I am 14 years old and currently attend Mountain View High School as a freshmen. I am proud to have two of the most amazing parents, Aaron and Gloria Huntsinger, in my corner. With their love, support, and determination, I have achieved so many goals and continue to count on them each and every day. I can never thank them enough for all that they do to support me in whatever I do.

An avid competitor, I also participate in several disciplines of 4-H, basketball, and most recently, reining. Cowboy, my 11 year old gelding, is the first horse I have helped train. Reining takes knowledge, determination, and commitment to be successful, and Cowboy has helped me accomplish so much in such a short time.

I am proud and excited to be Idaho City's 2012 - 2013 Miss Gold Dust Princess! Being part of Gold Dust's Rodeo is fun-filled, exciting, and a true adventure each day. The gold Dust Rodeo is both exciting and fun for the cowboys and cowgirls participating, as well as the rodeo fans and families in the stands. I am excited to see what new adventures are in store!
---
---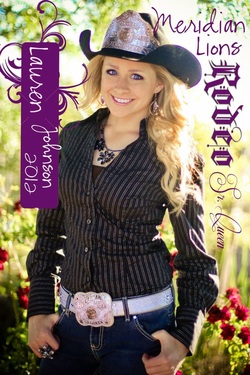 Miss Meridian Lions Rodeo - Queen
Lauren Johnson

Hello! I am Lauren Johnson, and I proudly wear the Meridian Lions Rodeo Sr. Queen crown for the year 2012 - 2013. To me, being a rodeo queen is an opportunity to make a difference, and make friends that will last a life time. The Meridian Lions Rodeo is a Rodeo that not only gives back to the community; it brings our families together for good times that we will never forget. The Meridian Lions Club works hard to provide the public with a genuine rodeo experience while raising funds to help locally, as well as, internationally. Through their service, both the members and rodeo queens get to really make a difference! Because of the Lions, I've learned that any generation can be a generation that creates positive changes by serving others.


---
---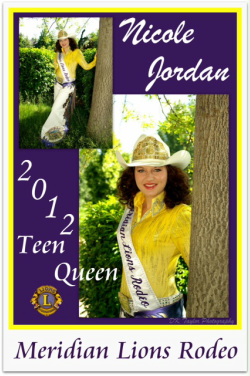 Miss Meridian Lions Rodeo Junior Queen
Nicole Jordan

Nicole Jordan is the 15 year old daughter of Curt and Danielle Yanskey. She is a Boise, Idaho native and attends Renaissance High School in Meridian where she is on the high honor roll and a member of the Leo's Club. She enjoys working on Leo's community service projects with the Leo's club, the Leo's parent organization and the Meridian Lions. Her close ties to the Lions are making her year as the 2012 Meridian Lions Rodeo Teen Queen even more special.

Nicole tutors and mentors several young students and loves to read, travel and spend every free minute with her two horses. She volunteers her time to help promote the Personal Ponies of Idaho. This unique non-profit organization provides children with disabilities with a pony to love and care for at no charge.

She is an active member of the JC Riders horse 4H club and has held every club office over the past seven years. Nicole was one of two girls on a team that won first place at both the Idaho and National 4H Team speech competition in 2011.

Nicole is looking forward to sharing her love of horses, promoting the western way of life and helping her community through Lions' service projects as she represents the Meridian Lions Rodeo as their Teen Queen this year.


---
---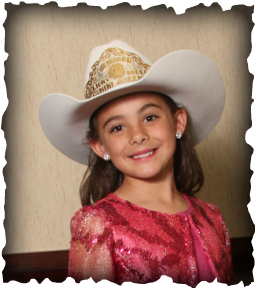 Miss Meridain Lions Rodeo Mini Queen
Maycn McCullough

My name is Maycn McCullough and I am the 9 year old daughter of Jay and Deanna McCullough. I attend Eagle Montessori Academy and will be in the fourth grade this fall.

I am honored to say, this year I am representing the Meridian Lions as their 2012 Mini Queen. I plan on being very involved in the community activities the Lions support and help promote the sport of Rodeo.

If you see me this summer, buzzing by on my horse Romeo, you can be sure there is no place on earth I would rather be. I have been riding horses for 5 years and hope to be a role model for other young girls to dream big and believe in themselves.




---
---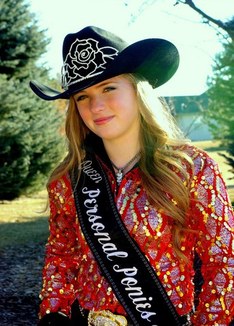 Miss Personal Ponies Ltd. Idaho Queen
Hollie Danielle Carlson

Hi, my name is Hollie Danielle Carlson, And I am the 14yr. old daughter of Stacey and Deonna Carlson. I was born in Anchorage, Alaska, but moved to Idaho when I was a year old. I currently live in Meridian, Idaho. I go to private school at Calvary Chapel in Nampa, and will be starting my freshmen year. I have also been involved in 4-H for 3 years with my horse Splash, and will be showing for the first time this year with my queening horse, Hopper. I absolutely love public speaking, photography, designing clothes, and of course rodeo!

The past 2 years of my life have been nothing but interesting. Getting a new horse, new house, and new hobby. I look forward to being able to compete in High School Rodeo. My horse Hopper, and I would like to do Cutting and Goat Tying, along with still doing Rodeo Queening; trying to make it all the way up to Miss Rodeo America!

I aspire to become a veterinarian when I go to college. It is my goal to help owners and heal animals all over our Treasure Valley. I have a soft heart for animals in need, and I'm looking forward to working with them in the future as my "JOB".

I have 5 people I look up to as role models. Normally, people have just one, but I strive to emulate the qualities of all these people in myself. I want to be like my Mom and Mrs. Donnis Mager. Both are awsome with make-up, and they truly make it an art. I would like to be as good with horses as Mrs. Jodie Perkins, be as kind and successful as Miss Freya Ford (Miss Rodeo Idaho 2009). I would also like to be as knowledgeable as Doc. Lange, a retired vet that is know across the state of Idaho!

Personal Ponies Ltd. Idaho
Personal Ponies Ltd is a not for profit organization founded in 1986 to promote the idea that the lives of children that are differently able will be immeasurable enriched by having a small pony to care for and enjoy. Personal Ponies Ltd will place ponies, at no charge, in the homes of children with special needs. Personal Ponies will also place ponies in other facilities, also at no charge, such as Special Schools, Therapeutic Riding Centers, Child Care Centers, etc. Personal Ponies Ltd will continue to be involved with both pony and child for the duration of their relationship in the form of personal visits from volunteer members of Personal Ponies Ltd in addition to other forms of communication.

---
---